Already present in Belgium since 2015 with its "Adéquat" brand, Groupe Adéquat (38th company in the world on the staffing market) strengthens its presence on the Belgian market by taking a stake in Skillflex People. This operation achieves € 20M in turnover in this country.
As with each of Groupe Adéquat's operation, the projet with Skillflex is above all a story of people, meetings and sharing of values. What followed was pretty obvious. For managers of the Groupe Adéquat, invest in Skillflex will increase the Group's market share in Belgium and especially in Flanders. For Wim Van den Berge, CEO and owner of Skillflex, joining Groupe Adéquat is an opportunity to develop your business in the 3 regions (Flanders, Wallonia and Brussels capital), and to be part of an adventure with global ambition ! He will take the lead of Groupe Adéquat's activities in Belgium, composed with Skillflex and Adéquat.
Groupe Adéquat aims to continue its development, particularly internationally, by expanding its current brands and integrating other strong and complementary brands. The objective: to develop in 10 countries over the next 5 years and integrate the first 25 global companies on the market.
Ci-après : l'équipe Adéquat Belgium avec Jérôme Rieux (CEO du Groupe Adéquat), Wim Van de Berge (CEO Skillflex), Lisa Cambone (Directrice Internationale du Groupe Adéquat).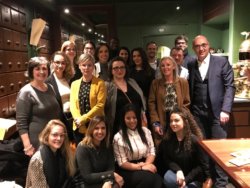 Les agences Skillflex !